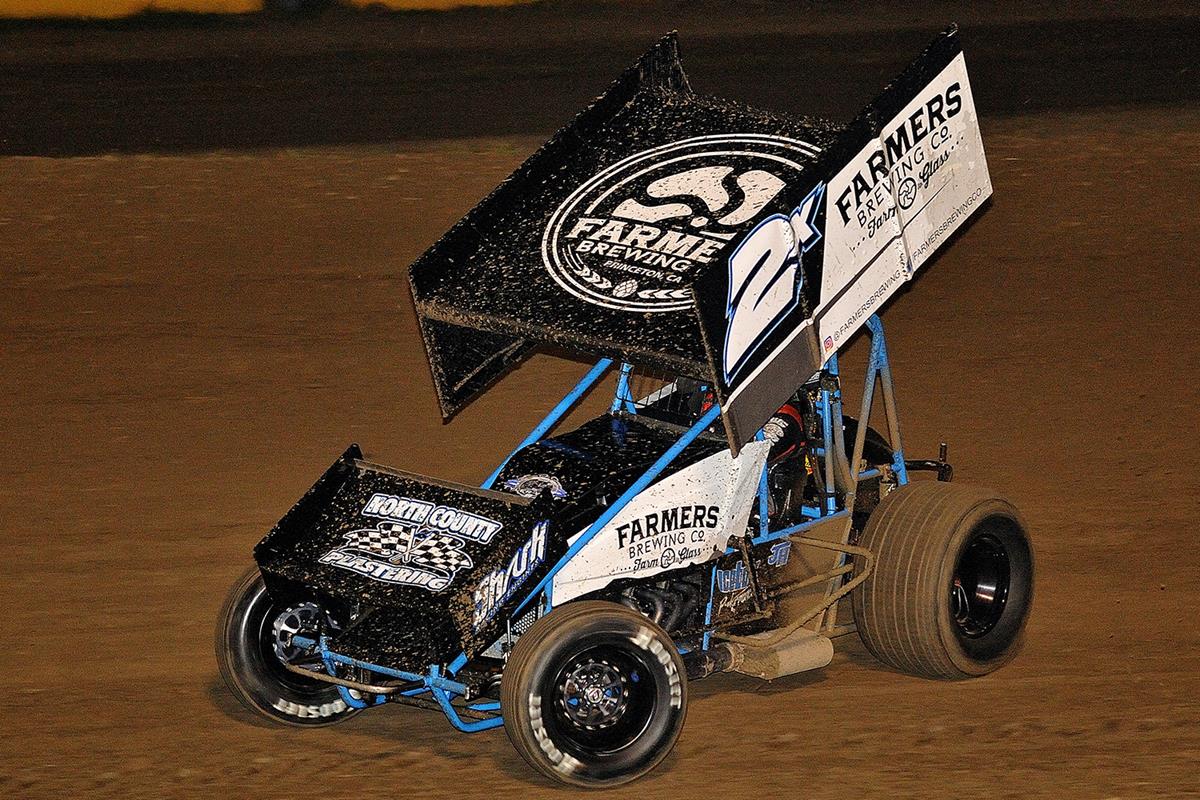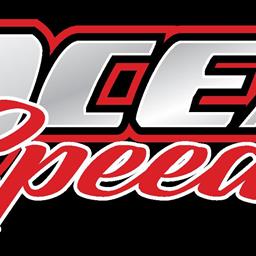 ---
FRIDAY NIGHT LIGHTS AT OCEAN SPEEDWAY WON BY JUSTIN SANDERS
WATSONVILLE, CALIFORNIA (May 19, 2023) – Multi-time Ocean Sprints presented by Taco Bravo champion Justin Sanders of Aromas returned to his home victory lane, scoring a convincing victory in Friday's round four in Watsonville. It marked Sanders' first win at Ocean Speedway since claiming the 2022 Howard Kaeding Classic for the NARC 410 Sprint Cars last July.
Justin's younger brother Rickey entered the night as the points leader and followed that up with fast-time in qualifying over the 24 car field. Kaleb Montgomery of Templeton claimed dash honors over Justin Sanders.
Montgomery and Justin Sanders shared the front row for the 30-lap feature. After racing side-by-side down the backstretch, Sanders crossed over Montgomery in turn four to lead lap one. The first caution fell on lap four for Jeremy Chisum of Salinas stopped on the backstretch. Bud Kaeding and Montgomery dueled side-by-side on the restart with Kaeding briefly driving up the backstretch wall to avoid contact.
Jason Chisum stopped on the backstretch for the next caution on lap seven. Sanders quickly encountered lapped traffic by lap 11. Eighth-starting Tanner Carrick of Lincoln was on the move, advancing to fifth on lap 16. He then charged past Kaeding and Montgomery in a two-for-one pass to take second on lap 24. Sanders had a 4.1 second advantage at that stage but it was nullified on lap 27 when the caution flew. 2022 champion Kurt Nelson of Gilroy stopped on the exit of turn two for the yellow flag. The incident earned him the Beer Optics Hard Luck Award.
Sanders drove high on the restart while Carrick tried to go low. Sanders had the right idea, soaring to a 1.602 second lead at the finish. Oakley's Dylan Bloomfield worked to third over the final three laps followed by Montgomery and Kaeding.
"I just needed to time that restart and just get down the front straightaway without doing anything stupid," Sanders said. "We'll take this win and just try to keep building momentum to keep picking them off."
2022 Hobby Stock champion Joe Gallaher continued his winning ways on Friday night in the 20-lap contest.
His grandson Bobby Gallaher led the first six laps with 2022 IMCA Sport Modified champion Adriane Frost of Watsonville in pursuit of the lead. Frost worked her way up the inside on the backstretch, taking the lead officially on lap seven.
Joe Gallaher drove into second then looked to reel in Frost. A caution on lap 12 evaporated Frost's lead over the field. Gallaher dove inside in turn four to lead lap 15 and never looked back. Joe Gallaher scored the win over Frost. Sam Kennedy won the battle with Wally Kennedy for third when Wally slid through the infield on the restart. Bobby Gallaher and Dan Fassler of San Jose rounded out the top-five.
South Bay Dwarf Cars made their first appearance of the season at Ocean Speedway with Terre Rothweiler of Santa Cruz defending his home turf in an exciting 20-lap feature. Brandon Wiley of Santa Maria and Rothweiler of Santa Cruz staged a thrilling first half of the race. Wiley led the first six laps comfortably while Rothweiler wrestled second from Campbell's Eric Weisler.
Rothweiler looked inside Wiley for the lead on the backstretch. Rothweiler slid past Wiley in turn one on the following lap but Wiley crossed him over on the backstretch to lead lap seven. They raced-side-by-side down the front stretch in lapped traffic before Rothweiler cleared him on lap nine.
A caution on lap 10 did not deter Rothweiler as he scored the win over Wiley, Weisler, ninth-starting Mark Biscardi of San Jose, and Scotty Preast of Santa Maria.
Rothweiler made it two wins in one night when he led all 15 circuits of the Police-in-Pursuit for Santa Cruz Fire. San Benito Sheriff Roy Iller charged from sixth to second in the closing stages. Rothweiler held on for the win in lapped traffic – with a flat right rear tire – with Iller finishing second followed by AJ Waltrip of Santa Cruz County Sheriffs in third.
TJ Santos of Gilroy took the checkered flag in the 15-lap Four Banger feature. Watsonville's Amaya Flowers led the first two laps before a caution flag flew for debris in turn four. Santos challenged Flowers on the restart but she held the lead by a nose on the outside line.
Santos tried the inside again in turn four, completing the pass this time on lap five. Points leader Jason Lazzerini of Moss Landing advanced into second position on lap nine. He kept the pressure on Santos to the checkered flag, but Santos prevailed. Flowers finished third followed by Nicole Beardsley of Felton and Matt Hill of Felton.
Up next at Ocean Speedway is the next Modified Madness night on Friday June 2. IMCA Sport Mods, Hobby Stocks, Four Bangers, Police-in-Pursuit, and South Bay Dwarf Cars will compete.
For more information visit www.OceanSpeedway.com
Ocean Speedway May 19, 2023
Ocean Sprints presented by Taco Bravo (30 laps)
A Feature 1 (30 Laps): 1. 2X-Justin Sanders[2]; 2. 83T-Tanner Carrick[8]; 3. 83V-Dylan Bloomfield[7]; 4. 3-Kaleb Montgomery[1]; 5. 69-Bud Kaeding[3]; 6. 10-Dominic Gorden[5]; 7. 28-Chase Johnson[9]; 8. 02-Ashton Torgerson[10]; 9. 22-Mitchell Faccinto[6]; 10. 121-Rickey Sanders[4]; 11. 37-Michael Pombo[12]; 12. 3D-Caleb Debem[18]; 13. 72S-Bradley Dillard[20]; 14. 88-Austin Torgerson[14]; 15. 25Z-Jason Chisum[16]; 16. 8-Jeremy Chisum[11]; 17. 61-Travis Labat[13]; 18. 6D-Josh Chisum[23]; 19. 07-Richard Fajardo[21]; 20. 72W-Kurt Nelson[17]; 21. 56Z-Don Hart[22]; 22. 72JR-Chris Nelson[15]; 23. 3M-Adam Kaeding[19]; 24. (DNS) 34B-Glenn Bryan
---
Article Credit: Steven Blakesley
Submitted By: Steven Blakesley
Back to News