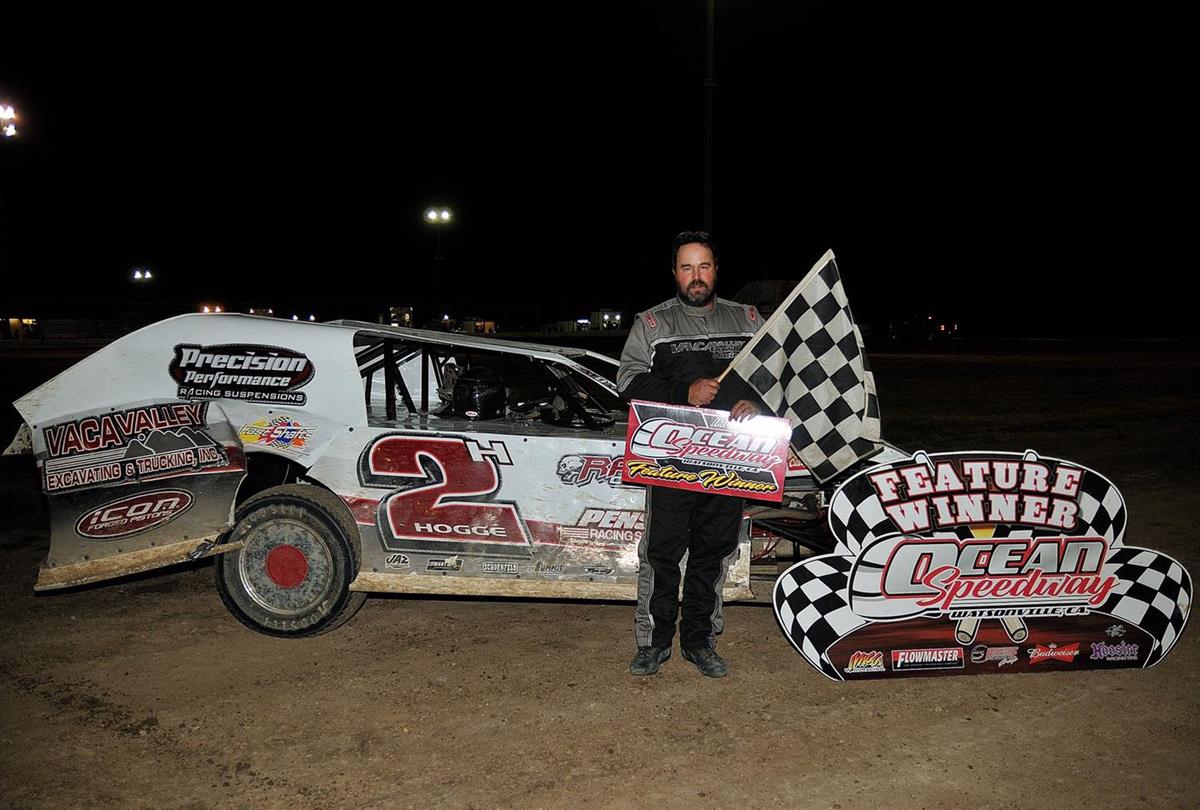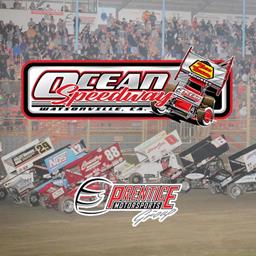 ---
Bobby Hogge dominates Ocean Speedway IMCA Dirt Modified feature on opening night
Bobby Hogge IV, Fred Ryland, Joe Gallaher, Kenny Stragalinos and Hunter Gather earn opening night wins at Ocean Speedway
Watsonville, CA…The Ocean Speedway in Watsonville opened its 63rd season of competition on Friday night with an eclectic five-division program.
Multi-time track champion Bobby Hogge IV came out on top of the evening capper by racing to a dominating victory with the IMCA Dirt Modifieds. The Salinas veteran started from the pole and quickly shot out to a commanding lead. Hogge eventually lapped up to second place and took the checkered flag with a margin of victory that read over 13 seconds. Matthew Hagio made some nice moves to end up second, followed by Jim Pettit II, Anthony Copeland and last year's track champion Cody Burke.
IMCA Dirt Modified finish: 1. 2-Bobby Hogge IV[1]; 2. 14-Matthew Hagio[5]; 3. 6-Jim Pettit II[3]; 4. 91-Anthony Copeland[6]; 5. 20-Cody Burke[4]; 6. 28-Chase Aue[2]; 7. 01-Raymond Keldsen Jr[7]
Whenever you put Fred Ryland on the front row in California, you're probably going to get the result that we saw on Friday. And that's him ending up in victory lane with the IMCA Sport Mods. The Brentwood racer blasted into the lead but did feel pressure early on from Jacob Mallet Jr. and Jim DiGiovanni. Ryland eventually pulled away and took the checkered flag for yet another Ocean Speedway win. Mallet, Markus Frazier, DiGiovanni and Jonathan Hagio completed the top-five.
IMCA Sport Mod finish: 1. 7J-Fred Ryland[2]; 2. 127-Jacob Mallet Jr[6]; 3. 15F-Markus Frazier[8]; 4. 75X-Jim DiGiovanni[1]; 5. 14-Jonathan Hagio[13]; 6. 2-Kelly Campanile[10]; 7. 7Z-Shayna Nieman[9]; 8. 7D7-Mike Ficklin[7]; 9. 38H-Haley Gomez[5]; 10. 89-Duane Bieser[12]; 11. 34-Cody Bryan[14]; 12. 14J-John Ferro[11]; 13. 42B-Max Baggett[15]; 14. 28E-TJ Etchinson III[4]; 15. 9B-Igor Gandzuk[3]; 16. 15X-Dennis Souza[16]
Reigning Ocean Speedway champion Joe Gallaher earned the Hobby Stock triumph on opening night. The 57 machine of Sam Kennedy took the lead at the waving of the green flag but Gallaher soon overtook him for the top spot. After that it was full speed ahead for the leader as he built his advantage up to eight seconds by the time he crossed the checkered. Jerry Skelton and Kennedy had a torrid battle right down to the end. Skelton nipped him at the line for second.
Hobby Stock finish: 1. 1-Joe Gallaher[4]; 2. 69-Jerry Skelton[1]; 3. 57-Sam Kennedy[2]; 4. 31W-Steve Remde[6]; 5. 73B-Ryan Muller[3]; 6. 1X-Bobby Gallaher[5]; 7. 73A-Brady Muller[8]; 8. 51-Norm Ayers[7]; 9. 55X-Shane Freeman[10]; 10. (DNS) 9-Nick Scetani
Kennedy, Remde and Ryan Muller rounded out the top-five.
The Four Banger main event saw an excellent multi-car tussle for the lead early on with Troy Moore, TJ Santos and Kenny Stragalinos. All three spent time leading the field until Stragalinos took command for good on lap seven. He went on to scoop up the win over Bill Beardsley, Travis Van Gilder, Nicole Beardsley and Amaya Flowers.
Four Banger finish: 1. Kenny Stragalinos, 2. Bill Beardsley, 3. Travis Van Gilder, 4. Nicole Beardsley, 5. Amaya Flowers, 6. Tony Gullo, 7. Troy Moore, 8. TJ Santos
Hunter Gather dominated the Police n Pursuit opener to pick up the victory over John Hohmann, Eric Perez, Pat Sullivan and Jackie Yeung.
Police n Pursuit finish: 1. 243-Hunter Gather[1]; 2. 01-John Hohmann[2]; 3. 06-Eric Perez[5]; 4. 134-Pat Sullivan[6]; 5. 520-Jackie Yeung[3]; 6. (DNS) 805-Roy Iler
Ocean Speedway returns to action this coming Saturday March 19th with the World of Outlaws NOS Energy Drink Sprint Cars and IMCA Sport Mods.
---
Article Credit: Gary Thomas
Submitted By: Gary Thomas
Back to News