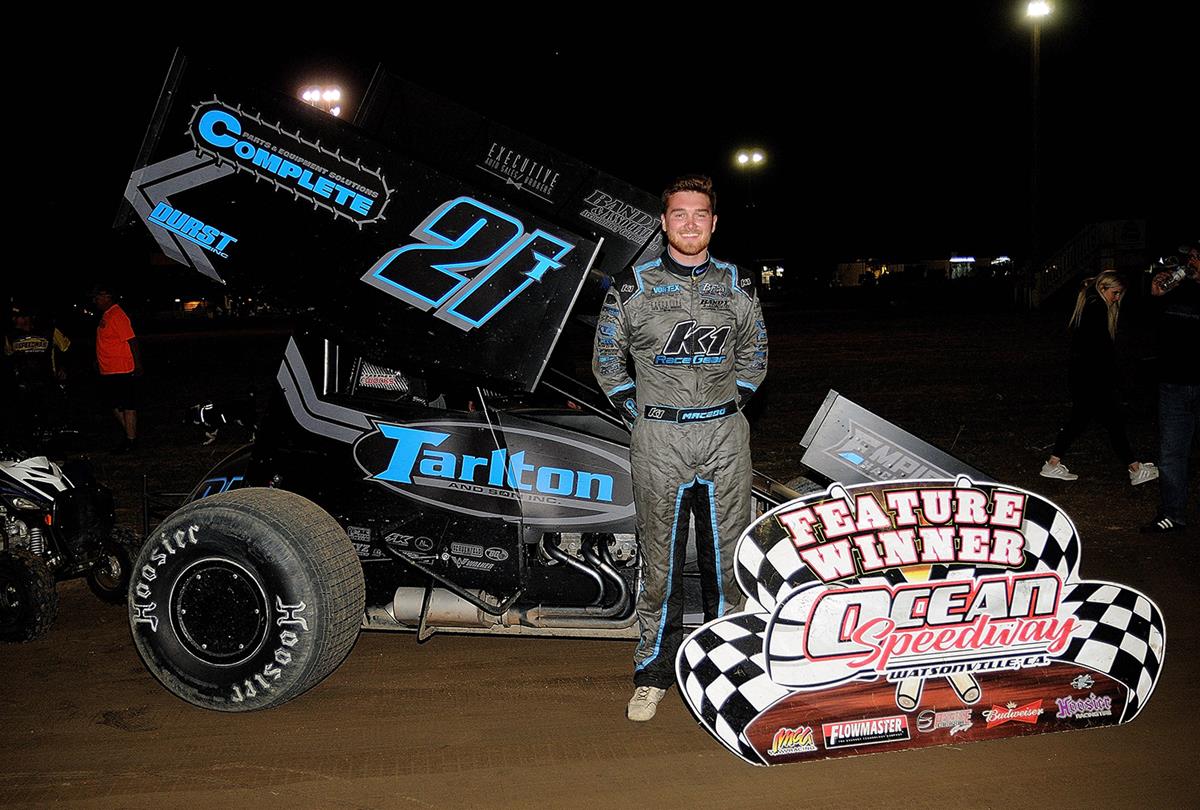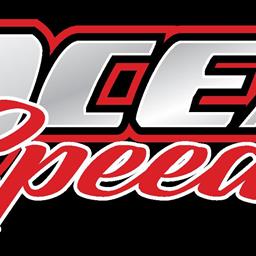 ---
COLE MACEDO CHARGES PAST CHASE JOHNSON FOR OPENING NIGHT OCEAN WIN
WATSONVILLE, CALIF. (April 22, 2023) – Cole Macedo of Lemoore, Calif. earned his second career Ocean Sprints presented by Taco Bravo victory in Friday night's season opener in Watsonville, using a late race restart to grab the win in the 30-lap feature at Ocean Speedway. Macedo's nabbed the lead from fast-time qualifier Chase Johnson of Penngrove on the 29th lap of the event. Friday's race marked the sixth attempt at a season opener after wet weather pounded the quarter-mile dirt oval this spring.
28 Ocean Sprints were in attendance as part of a four-division lineup at the Santa Cruz County Fairgrounds. Johnson led time trials in the Sean Quinn-owned No. 28 before Lincoln's Tanner Carrick, Gilroy's Kurt Nelson and Chris Nelson, and Aromas' Justin Sanders split the four heat races. John Clark of Windsor won the B-Feature.
Dylan Bloomfield started on the pole alongside 2022 NARC 410 champion Dominic Scelzi of Fresno. Scelzi led the opening circuit while Bloomfield fell back to third. The lead trio encountered lapped traffic by lap six. Fifth-starting Sanders drove up to third by lap 13. Johnson drove up to second position, then showed his nose for the lead in turn four on lap 15. On the following lap, Scelzi spun after bouncing off the back of Brad Dillard while putting him down a lap. Sanders slid into Scelzi as well, with both cars eliminated from the race. Sanders was awarded the Beer Optics Hard Luck award after the incident.
Johnson inherited the lead as a result of the caution. The caution flew again for Kurt Nelson stopped in turn four on lap 19. Ninth-starting Macedo used the following restart to charge past Hanford's Mitchell Faccinto around the outside for third. Macedo then clawed towards Bloomfield, passing him on the inside in turn two to take second on lap 22.
Jeremy Chisum of Salinas stopped in turn four to set up a green-white-checkered finish. Macedo dove inside Johnson for the lead on the restart into turn one and cleared himself exiting turn two. Macedo soared to victory followed by Johnson, Bloomfield, Faccinto and 11th starting Bud Kaeding.
Salinas' Bobby Hogge won the 25-lap IMCA Modified feature in a battle of champions and veterans of the sport. A few incidents early in the race brought out caution flags, including a slowing Austin Burke of Salinas who collected Fred Lind of Prunedale. Burke was unable to continue.
Hogge started outside multi-time champion Cody Burke and drove around him to lead lap one. Burke battled back to take the lead on the inside on the backstretch, officially leading lap four. Hogge twice had a run on the inside of Burke for the lead. The first attempt on lap eight was nullified for a caution flag for a stopped Trevor Fitz of Camarillo.
The second move on lap 12 was the decisive maneuver, with Hogge taking the lead. Seventh starting Jim Pettit II drove up to third a few laps later.
Hogge held off Cody Burke in a close battle to the checkered flag. Pettit was third followed by Andy Obertello of Hollister and Andrew Pearce of Oakley.
Race fans experienced a treat when three Ocean Speedway track champions staged a duel for the ages in the Hobby Stock main event, with Rob Gallaher coming out on top after 20-laps of excitement.
Rob Gallaher drove around his 2022 championship winning father Joe to lead lap one. 2020 IMCA Sport Modified champion Adriane Frost of Watsonville went third to first in one corner, passing both Gallahers to take over on lap four. The trio ran on top of each other in close quarters. A caution flew on lap eight for brothers Brady and Ryan Muller clashing in turn two. Rob Gallaher had a brief fire under the rear of his car but it was extinguished and he rejoined the fight.
Frost seemed poised to win but lapped traffic brought the leaders back together on lap 15. A bit of nudging and jockeying saw Rob Gallaher drive into the lead on lap 18. Joe Gallaher dove underneath him coming to the checkered flag but fell short by a nose. Frost settled for a narrow third place finish ahead of Shane Freeman and Jerry Skelton.
Jason Lazzerini of Moss Landing survived a wild Four Banger feature for the opening night win. The 15-lap event opened with Gilroy's TJ Santos and Watsonville's Richard Mitchell sliding up the track into turn one. Mitchell spun and was t-boned by Tony Smith of Watsonville. All drivers involved were uninjured.
Peter Vannerus of Felton steered his blue and orange Mini Truck into the lead until Lazzerini charged into the picture on lap three. Lapped traffic in the second half of the race kept Vannerus within arms length, with Vannerus briefly leading by a nose in turn two. Lazzerini drove away to win, followed by Vannerus, and unofficially Kate Beardsley in third.
Ocean Speedway hosts round two of the 2023 season on April 28 with Ocean Sprints presented by Taco Bravo, Hobby Stocks, Four Bangers, and Police-in-Pursuit racing. For more information visit www.OceanSpeedway.com
Ocean Speedway Opening Night
Ocean Sprints presented by Taco Bravo (30 laps)
21T-Cole Macedo[9]; 2. 28-Chase Johnson[4]; 3. 83V-Dylan Bloomfield[1]; 4. 22-Mitchell Faccinto[3]; 5. 69-Bud Kaeding[11]; 6. 83T-Tanner Carrick[6]; 7. 21X-Gauge Garcia[12]; 8. 121-Rickey Sanders[15]; 9. 72JR-Chris Nelson[8]; 10. 37-Michael Pombo[17]; 11. 72S-Bradley Dillard[13]; 12. 12J-John Clark[18]; 13. 3D-Caleb Debem[20]; 14. 61-Travis Labat[10]; 15. 25Z-Jason Chisum[21]; 16. 14-Mariah Ede[19]; 17. 8-Jeremy Chisum[16]; 18. 72W-Kurt Nelson[7]; 19. 41-Dominic Scelzi[2]; 20. 2X-Justin Sanders[5]; 21. 46J-Geoffrey Grimm[22]; 22. 5R-Ryan Rocha[14]
---
Article Credit: Steven Blakesley
Submitted By: Steven Blakesley
Back to News