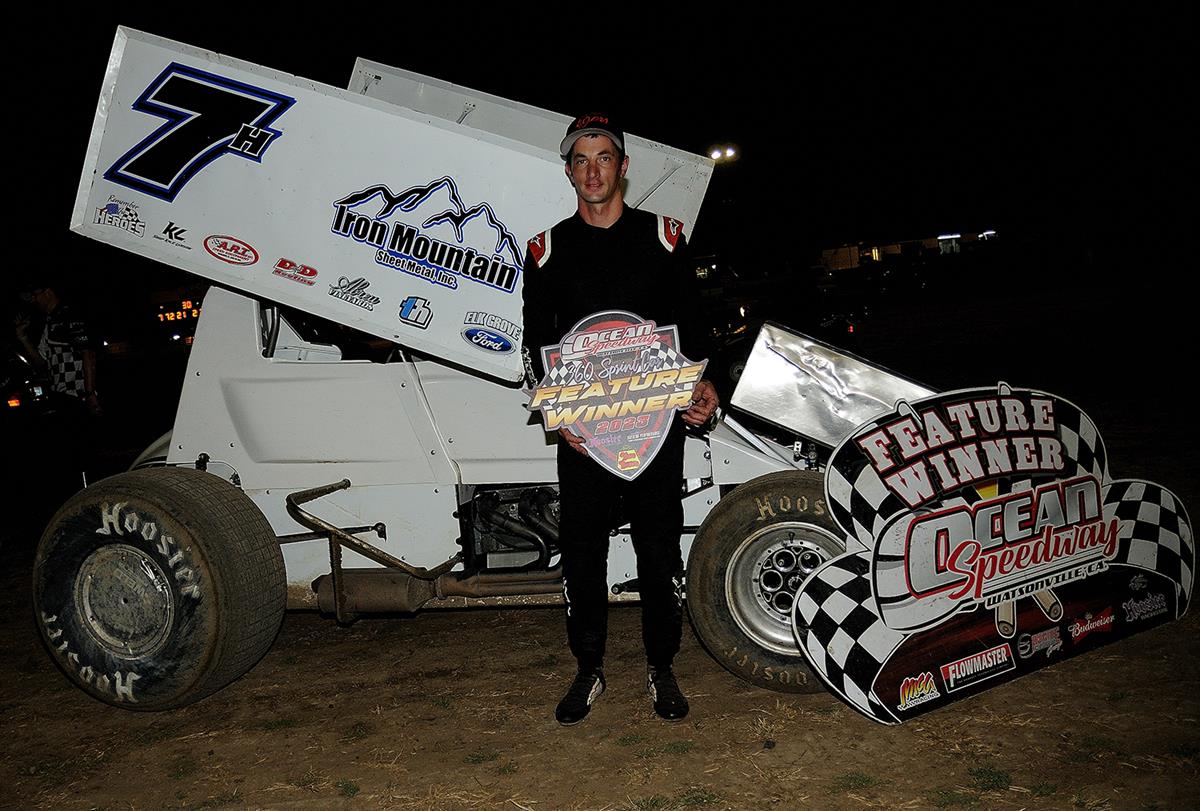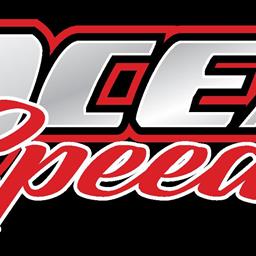 ---
JAKE HAULOT GRABS FIRST CAREER OCEAN SPRINTS WIN ON FRIDAY IN WATSONVILLE
WATSONVILLE, CALIFORNIA (June 16, 2023) – Jake Haulot of Cotati drove his white No. 7H Sprint Car to victory lane for his first Ocean Sprints presented by Taco Bravo victory on Friday night. Haulot opened up festivities with fast-time in qualifying before racing to the 30-lap feature win.
Salinas' Jason Chisum and Lemoore's Gauge Garcia split the heat races before Garcia won the Gizdich Ranch Dash
Garcia then led the opening lap of the feature. An apparent errant caution flew on lap three. When the action continued, incoming points leader Rickey Sanders of Aromas climbed into the third position.
Garcia went over the cushion in turn three while leading, bringing out the yellow flag on lap six. Garcia never stopped and officials opted to blend him in from fifth position.
Michael Pombo of Easton passed Garcia for fifth on the restart. Oakdale's Brad Dillard then spun in turn three for a caution on lap nine.
Pombo then tried to drive between Gilroy's Kurt Nelson and Travis Labat of Livermore on the restart but collided with Nelson, sending Pombo flipping wildly down the front stretch for a red flag. He was uninjured.
Garcia assumed fifth as a result, then passed Labat for fourth. Labat stopped in turn three with unfortunate mechanical issues to surrender fifth on lap 17.
Haulot led Sanders and Nelson into lapped traffic. Traffic proved challenging with Haulot tangling with Capitola's Glenn Bryan in turn two. Sanders then tagged Bryan, spun across the backstretch and was nearly hit by Nelson before landing on his side for a lap 22 red flag.
The final eight laps were dominated by Jake Haulot on the way to his inaugural Ocean Sprints win. Nelson finished second followed by Garcia, Chris Nelson of Gilroy, and Dillard.
San Jose's Rob Gallaher topped the largest Hobby Stock field of the season in a 20-lap feature, in the prelude to the West Coast Hobby Stock Tour visiting Ocean Speedway on Friday June 23.
DJ Keldsen of Newman led the first three laps before Rob Gallaher drove inside of him in turn four to lead lap four. The leaders began approaching lapped traffic before Dan Fassler of San Jose spun in turn four, bringing out the caution on lap seven.
Gallaher motored ahead on the restart with clear track ahead of him. Nick Diani of Santa Maria charged from his tenth starting position up to fourth. Bobby Gallaher challenged underneath Diani in turn one but spun, requiring a caution on lap 11. JP Gallaher and Diani tangled on the ensuing restart, relegating both drivers to the rear of the field yet the race stayed green.
Santa Cruz' Brady Muller suffered a broken axle while running in the top-five, bringing out the caution on lap 14 on the backstretch.
Rob Gallaher led the remaining six laps while some chaos ensued behind him. Keldsen finished second followed by Prunedale's Shane Freeman, Watsonville's Steve Remde, and JP Gallaher in his first start of the year finished fifth.
Mark Biscardi of San Jose avenged a narrow loss to Campbell's Eric Weisler in the Dwarf Car Nationals at Antioch by winning Friday's South Bay Dwarf Car feature at Ocean with a thrilling finish.
Biscardi started on the pole and led the first eight laps of the feature. Gage Stickler of Nipomo took over second from Weisler on lap six. Two laps later, Sticker flipped wildly in turns one and two to end his race early. He was uninjured.
On the restart, Weisler drove right on the back bumper of Biscardi. Biscardi faltered slightly in turn three, allowing Weisler to take the lead on lap 10.
The top-two stayed in lockstep with Biscardi diving underneath Weisler on the final lap in turn two. Biscardi took over the lead on the backstretch to score the narrow victory. Weisler finished second followed by Corben Kuma of Nipomo on his 15th birthday in third. Colin Stickler of Santa Maria and Dan Zuger of San Jose rounded out the top-five.
Kenny Stragalinos of Boulder Creek scored the 15-lap Four Banger feature with 17 entries in the pits. Prunedale teenagers Shelbie Freeman and Amaya Flower started on the front row. Flower drove past Freeman to lead lap one before a caution flew for Travis VanGilder of Felton stopped in turn three.
Stragalinos challenged Flower in traffic with a three-wide manuever in an attempt to take the lead. They raced side-by-side for the top spot on lap four while Jason Lazzerini of Moss Landing charged from 12th to fourth by lap four.
Stragalinos took over the top position on lap five. Lazzerini took over second on lap 14 and quickly advanced towards Stragalinos. Stragalinos won by a nose over Lazerrini and Flower. Peter Vannerus and Shelbie Freeman rounded out the lead lap finishers.
The West Coast Hobby Stock Tour hits Ocean Speedway on Friday June 23, joined by Ocean Sprints presented by Taco Bravo, IMCA Sport Mods, and Four Bangers.
For more information visit www.OceanSpeedway.com
Ocean Speedway June 16, 2023 Ocean Sprints presented by Taco Bravo RESULTS
A Feature 1 (30 Laps): 1. 7H-Jake Haulot[2]; 2. 72W-Kurt Nelson[4]; 3. 21X-Gauge Garcia[1]; 4. 72JR-Chris Nelson[9]; 5. 72S-Bradley Dillard[8]; 6. 25Z-Jason Chisum[3]; 7. 3D-Caleb Debem[10]; 8. 6D-Josh Chisum[11]; 9. 56Z-Don Hart[14]; 10. 07-Richard Fajardo[12]; 11. 121-Rickey Sanders[5]; 12. 34B-Glenn Bryan[13]; 13. 61-Travis Labat[6]; 14. 37-Michael Pombo[7]; 15. (DNS) 98-Vince Giannotta
---
Article Credit: Steven Blakesley
Submitted By: Steven Blakesley
Back to News