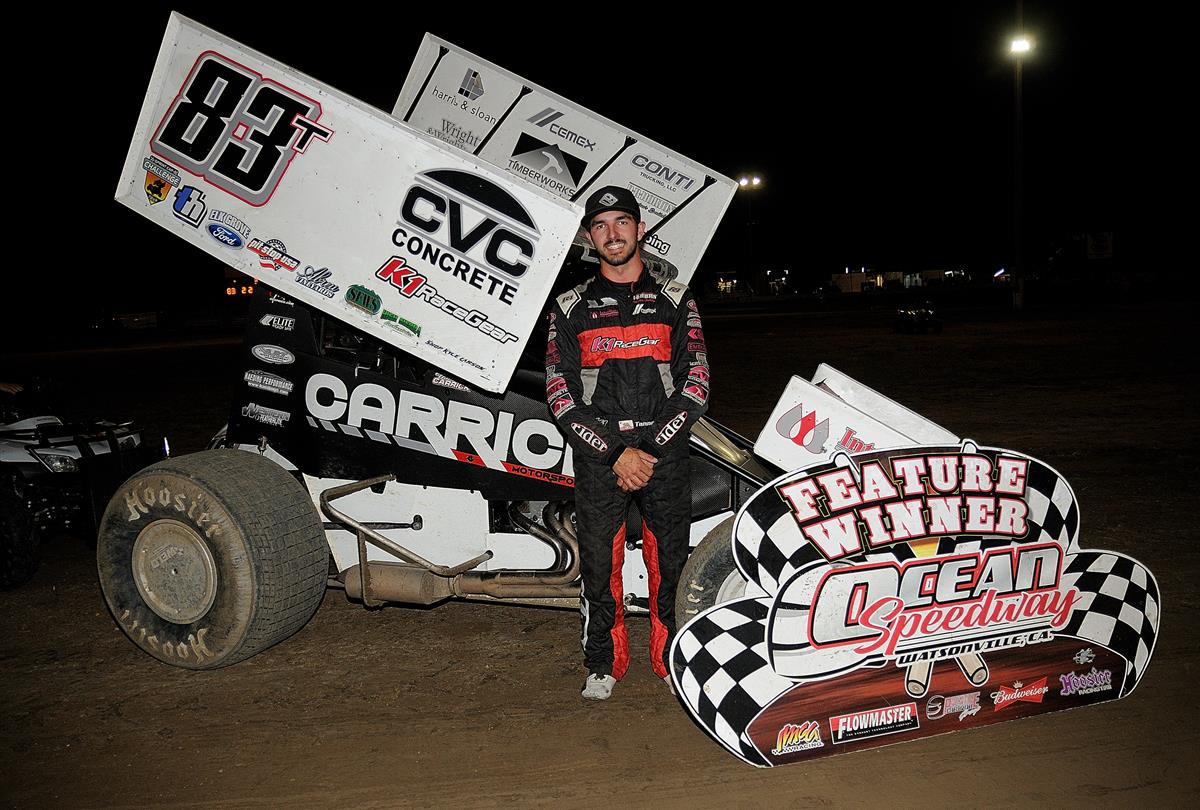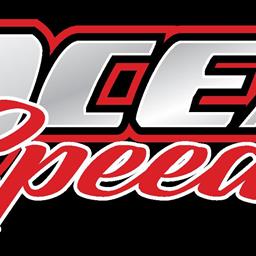 ---
Tanner Carrick dominates for first Ocean win of the season Friday
Tanner Carrick dominates for first Ocean Sprints win of the season on Friday
By Gary Thomas
Watsonville, CA…Lincoln, California's Tanner Carrick made the trip from up north pay off as he raced to his initial Ocean Sprints presented by Taco Bravo victory of the season on Friday night.
Carrick, who captured a pair of Ocean Speedway wins last season, fended off challenges early from Caeden Steele and then cruised to the checkered flag over the final half of the race. He was joined in victory lane by Nicholas Johnson with the West Coast Hobby Stock Tour, Jason Ryan Jr. with the IMCA Sport Mods and Jason Lazzerini with the 4-Bangers.
The 30-lap Ocean Sprints presented by Taco Bravo feature began in thrilling fashion with Fresno's Caeden Steele and Carrick battling it out tooth and nail. The duo raced extremely close together on the well-prepared quarter mile before a caution waved on lap nine. Steele was looking for a clean sweep of the night after setting fast time, winning his heat race and the Gizdich Ranch Dash.
On the restart Steele took a shot at the lead but got out of shape and contacted the wall, ultimately spinning out in the third corner. San Jose's Adam Kaeding had nowhere to go and contacted him, resulting in a tommy tip over. Kaeding emerged from the car okay, however, both drivers were done for the night.
After that Carrick pulled away to a sizable advantage, but the action behind him remained intriguing with Kaleb Montgomery, Gauge Garcia, Rickey Sanders and others dicing it up. Following immense work on the track surface during the week it certainly gave drivers one of the best of the season.
Montgomery crossed the stripe in second, followed by Garcia, Sanders and Michael Pombo in the top-five. The top-10 was filled out by Dominic Gorden, Travis Labat, Jason Chisum, Caleb Debem and Colby Johnson.
Ocean Sprints results: 1. 83T-Tanner Carrick[2]; 2. 2K-Kaleb Montgomery[3]; 3. 21X-Gauge Garcia[4]; 4. 121-Rickey Sanders[8]; 5. 37-Michael Pombo[5]; 6. 10-Dominic Gorden[7]; 7. 61-Travis Labat[9]; 8. 25Z-Jason Chisum[6]; 9. 3D-Caleb Debem[12]; 10. 38-Colby Johnson[10]; 11. 72W-Kurt Nelson[11]; 12. 72S-Bradley Dillard[14]; 13. 56Z-Don Hart[16]; 14. 07-Richard Fajardo[15]; 15. 121X-Caeden Steele[1]; 16. 6D-Josh Chisum[13]; 17. 3M-Adam Kaeding[17]
The West Coast Hobby Stock Tour brought a fantastic field of 27 cars to the Ocean Speedway on Friday night and displayed some outstanding competition in the main event. Madera's Lance Hurst and defending Watsonville track champion Joe Gallaher led the field to green for the 20-lapper.
Hurst jumped into the early lead and held command over a full field of hungry Hobby Stocks. Cars raced high, low and in the middle on the wide surface and gave fans an excellent show throughout the feature. Stephen Johnson battled his way forward as did Danny Wagner, Kodie Dean and others.
Just past the halfway point Nicholas Johnson carved his way into second and began to hound Hurst for the top-spot. While the duo went back and forth the racing behind them continued to be exceptional. All eyes the last few laps were on the front runners however, as Hurst and Johnson traded the lead multiple times.
Coming to the checkered flag Johnson dove to the inside of Hurst and narrowly edged him for the thrilling victory. Joe Gallaher, Stephen Johnson, Wagner, Dean, Rob Gallaher, Brian Cooper, Phillip Shelby and Brad Cohelo completed the top-10. It marked the second win of the Hobby Stock Tour campaign for N. Johnson.
West Coast Hobby Stock Tour results: 1. 1N-Nicholas Johnson[6]; 2. 10H-Lance Hurst[1]; 3. 1-Joe Gallaher[2]; 4. 26S-Stephen Johnson[3]; 5. 11D-Danny Wagner[12]; 6. 7-Kodie Dean[5]; 7. X-Rob Gallaher[8]; 8. 17C-Brian Cooper[7]; 9. 86-Phillip Shelby[13]; 10. 5-Brad Cohelo[11]; 11. 22-Adriane Frost[15]; 12. 13-Bobby Motts[9]; 13. X1-Bobby Gallaher[10]; 14. 57-Sam Kennedy[19]; 15. 00-Jerry Bartlett[18]; 16. 54-Vigna Anthony[16]; 17. 69-Jerry Skelton[21]; 18. 2H-Clarence Holbrook[4]; 19. 7C-Ty Carlson[17]; 20. 55F-Shane Freeman[20]; 21. 31W-Steve Remde[22]; 22. 3OG-Dan Fassler[14]
The IMCA Sport Mods also brought out a solid field of cars and in the end, it was all about Oakley's Jason Ryan Jr. who picked up the win. The 20-lap feature was plagued by cautions that slowed the pace but once up front there was no stopping Ryan.
Santa Maria racer Mike Dean took the lead at the start until Steven Allee charged by him on lap two. Allee held command till lap nine when Jason Ryan Jr. made the winning move. He went on to accept the Ed Entz checkered flag for the win over Allee, Adrian Frost, Dean and Jonathan Hagio.
IMCA Sport Mod results: 1. 52-Jason Ryan Jr[9]; 2. 39-Steven Allee[4]; 3. 22-Adriane Frost[7]; 4. 48-Mike Dean[1]; 5. 30S-Jonathan Hagio[6]; 6. 2C-Trevor Clymens[3]; 7. 3G-Chuck Golden[8]; 8. 4M-Emali VanHoff[16]; 9. 30H-Orion Messina[2]; 10. 12-Jimmy Ford[12]; 11. 38H-Haley Gomez[13]; 12. 22W-Charlie Hunter[18]; 13. 168-Bo Crebs[5]; 14. 33-Mike Gil[17]; 15. 80D-Dylan Wilson[10]; 16. 6K-Mike Kofnovec Jr[11]; 17. 6S-Mike Kofnovec SR[14]; 18. 5-Billy Robertson[15]
Current Four Banger point leader Jason Lazzerini of Moss Landing easily captured the 15-lap main event on Friday over Amaya Flower, Ken Keegan, Lisa Rhodes and Kate Beardsley. Flower led the opening lap but Lazzerini blasted past the following circuit and claimed the victory by over five seconds.
Four Banger results: 1. 0-Jason Lazzerini[3]; 2. 10-Amaya Flower[4]; 3. 51-Ken Keegan[1]; 4. 23X-Lisa Rhodes[5]; 5. 43-Kate Beardsley[7]; 6. 37-Peter Vannerus[11]; 7. 2-Nicole Beardsley[8]; 8. 5-Charlie Cole[9]; 9. 8-Thomas Cumming[6]; 10. 50-Tony Smith[2]; 11. 333-Sarah Ayers[12]; 12. (DNS) 25-Bill Beardsley
Ocean Speedway returns to action on Friday July 7th with a five division program headlined by the Ocean Sprints presented by Taco Bravo.
---
Article Credit: Gary Thomas
Submitted By: Gary Thomas
Back to News