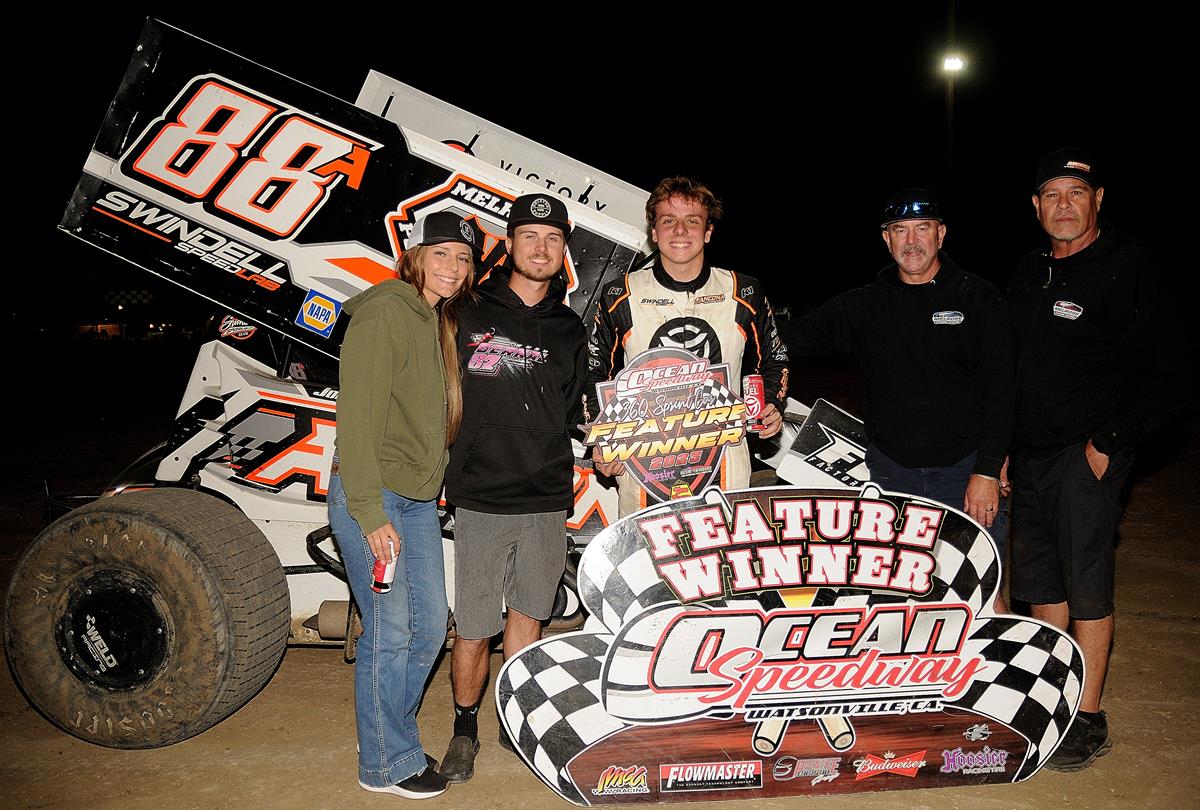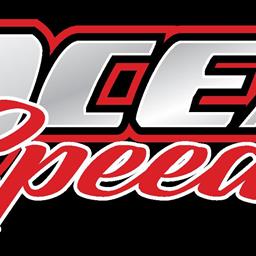 ---
Joey Ancona surges to first Ocean Sprints win of the season on Friday
Joey Ancona surges to first Ocean Sprints win of the season on Friday
Watsonville, CA…Concord, California's Joey Ancona battled Taco Bravo 360 point leader Rickey Sanders early on, before pulling away at the end to score his second career Ocean Speedway triumph on Friday night.
Joining the 18-year-old Ancona in victory lane were Jason Ryan Jr. with the IMCA Sport Mods, point leader Jason Lazzerini with the Four Bangers, Blake Bower in the WMR finale and Roy Iler with Police N Pursuit. Iler dominated the feature to wrap up the championship with his fifth win of the season.
The 30-lap Ocean Sprints presented by Taco Bravo main event saw Gizdich Ranch winner Rickey Sanders on the pole alongside Joey Ancona. At the waving of the green flag, it was Sanders who charged into the lead and held a steady advantage up front, until a lap-five restart gave Ancona the chance he needed.
Ancona rocketed to the inside and grabbed the lead that he would never relinquish. Sanders soon had to deal with the likes of DJ Netto, Jake Andreotti and Gauge Garcia. Netto at one point moved up to second, only to have a red flag negate the pass.
With the race waging on Netto slid to the inside of Sanders but contact between the pair ensued and resulted in Netto suffering a broken front end. As the race wound down a green-white-checkered restart was seen and during it, Sanders and Garcia came together, which saw both flip off turn two. Luckily, both drivers were okay but done for the race.
Ancona then led the final two circuits over Andreotti, Santa Maria's Bryce Eames, Gilroy's Kurt Nelson and Livermore's Travis Labat, who began the night by earning the Ocean Sprints Fast Time Award in qualifying.
Ocean Sprints results: 1. 88a Joey Ancona, 2. 7p Jake Andreotti, 3. 50 Bryce Eames, 4. 72w Kurt Nelson, 5. 61 Travis Labat, 6. 8 Jeremy Chisum, 7. 25z Jason Chisum, 8. 121 Rickey Sanders, 9. 88n DJ Netto, 10. 2k Gauge Garcia, 11. 3d Caleb Debem, 12. 72s Brad Dillard
The 20-lap IMCA Sport Mod feature began with Emali VanHoff leading the initial circuits, before Gavin Espino blasted to the point on lap seven.
Two-time Ocean winner this season Jason Ryan Jr. also slipped into the runner up spot and then scooped up the lead around the halfway point. Ryan led the remainder to grab his third triumph of the season over current point leader Chuck Golden, Jonathan Hagio, Steven Allee and Trevor Clymens in the top-five.
IMCA Sport Mod results: 1. 52-Jason Ryan Jr[6]; 2. 3G-Chuck Golden[8]; 3. 46N-Jonathan Hagio[5]; 4. 39-Steven Allee[7]; 5. 2C-Trevor Clymens[9]; 6. 33G-Gavin Espino[1]; 7. 22-Adriane Frost[10]; 8. 22W-Charlie Hunter[13]; 9. 19C-Tommy Clymens[3]; 10. 4M-Emali VanHoff[2]; 11. 33-Mike Gil[11]; 12. 13-Austin McMillin[4]; 13. 168-Bo Crebs[12]
The 20-lap Four Banger finale saw point leader Jason Lazzerini march through the field from 11th starting to net his seventh victory of the season. It took him just eight laps to make the winning move down low off turn four. Kate Beardsley, Peter Vannerus, Kenny Stragalinos and Thomas Cumming comprised the top-five.
Four Bangers results: 1. 0-Jason Lazzerini[11]; 2. 43-Kate Beardsley[2]; 3. 37-Peter Vannerus[5]; 4. 720-Kenny Stragalinos[6]; 5. 8-Thomas Cumming[3]; 6. 810-Matt Hill[8]; 7. 51-Cooper Keegan[1]; 8. 2-Nicole Beardsley[9]; 9. 5-Charlie Cole[14]; 10. 333-Sarah Ayers[13]; 11. 27-Patrick Kelley[10]; 12. 52-Tony Gullo[4]; 13. 14-TJ Santos[12]; 14. 25-Bill Beardsley[7]
Two-time WMR Midget champion Blake Bower scored an exciting victory in a non-stop feature Friday night. DeMartini led lap one while Bruno slipped back to fifth on the opening circuit. Bower looked underneath DeMartini in turn two to nab the lead on lap three. DeMartini ran within a car length of Bower for a few laps before falling into the clutches of three-time 2023 winner Drake Edwards of Surprise, Ariz.
Edwards showed his nose to DeMartini on the inside several times before Bell was able to take third away from Edwards. The top-four cars comprised of the three Boscacci Racing teammates and Edwards, running closely together over the final half of the feature. Bell overhauled DeMartini for second then tried to run down Bower for the win.
Bower charged ahead on the final two laps for the victory followed by Bell. DeMartini held off a late upstairs challenge from Edwards for third. Bruno rounded out the top-five.
WMR results: 1. 9-Blake Bower[4]; 2. 09-Bryant Bell[5]; 3. 19-Adrianna DeMartini[2]; 4. 4R-Drake Edwards[3]; 5. 54-Anthony Bruno[1]; 6. 96X-Logan Mitchell[9]; 7. 6-Shawn Arriaga[6]; 8. 7-Greg Dennett[7]; 9. 11-Jason Sanders[10]; 10. 66-Darin Horton[8]; 11. 15-Adam Weisberg[13]; 12. 68-Marvin Mitchell[11]; 13. (DNS) 8-Jerry Kobza
Ocean Speedway returns to action this coming Friday August 4th with Hall of Fame Night at the races.
Image courtesy of Top Dawg Photos
---
Article Credit: Gary Thomas
Submitted By: Gary Thomas
Back to News