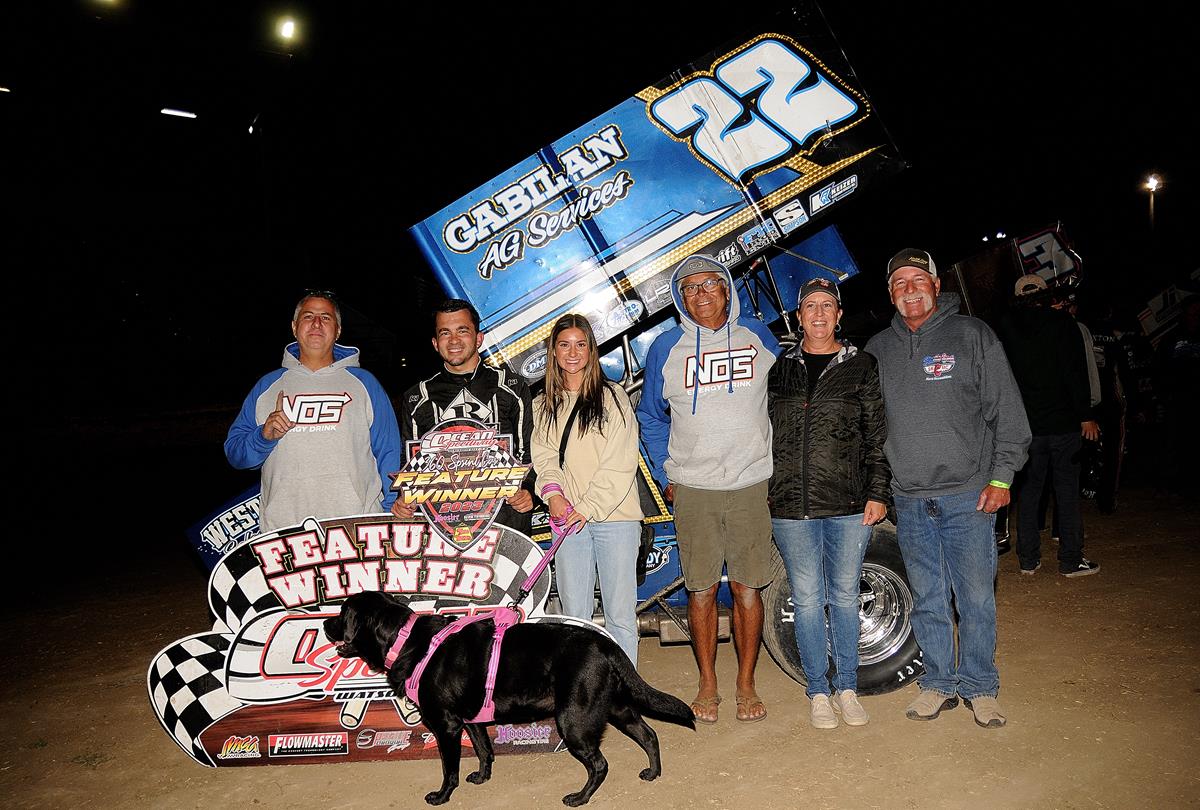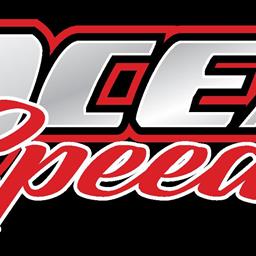 ---
Mitchell Faccinto makes late move for 2nd Ocean Sprints win of year
Mitchell Faccinto perseveres for Ocean Sprints triumph on Friday night
By Gary Thomas
Watsonville, CA…After being involved during an early wreck Hanford's Mitchell Faccinto battled back to capture a lengthy main event on Friday night with the Ocean Sprints presented by Taco Bravo.
Faccinto piloted the familiar Keith Day Trucking/ Gabilan Ag Service No. 22 to his second Watsonville victory of the season. Also snagging wins on Hall of Fame Night were Bobby Hogge IV with the IMCA Modifieds, Trevor Clymens with the IMCA Sport Mods and point leader Joe Gallaher with the Hobby Stocks.
Inducted into the Ocean Speedway Hall of Fame on Friday were three-time Ocean Sprints champion Brad Furr, multi-time Watsonville track titlist Bobby Scott and Videographer Fred Adams.
The 30-lap Ocean Sprints presented by Taco Bravo finale began with last week's winner Joey Ancona jumping into the lead ahead of Campbell's Bud Kaeding. Numerous caution periods proceeded to follow, which never allowed the race to get into a constant flow.
Over much of the race Ancona had his way with things out front and hit every restart with perfection, keeping the rest of the field at bay. Following a fuel stop on lap 10 caution flags continued to plague the contest but shuffled up the rundown immensely.
Track conditions also changed throughout the feature and played into the finish as it wore on. Faccinto had gotten involved in a lap two yellow but fought through attrition and began to make some fantastic moves, as he climbed back to fourth by the halfway mark. He then found the sweet spot where rubber had developed and sliced his way into third on lap 22, before taking second the following circuit.
With Ancona up front continuing to run the high line, that's all Faccinto needed to make the winning move with four laps remaining. The 2020 Ocean Sprints champ hit the rubber off turn four and grabbed the top spot that he would never relinquish.
Ancona tried to fight back but hit the curb a little too hard off the fourth corner and suffered front end damage, putting an unfortunate end to his strong night on lap 27.
Faccinto brought home the win over Kaleb Montgomery, Dominic Gorden, point leader Rickey Sanders and 16th starting Ashton Torgerson in the top-five. Rounding out the top-10 were Jeremy Chisum, Gauge Garcia, Kurt Nelson, Ryan Rocha and Chris Nelson. Montgomery began the night by setting fast time with a blistering 11.272 around bullring.
Ocean Sprints results: 1. 22-Mitchell Faccinto[7]; 2. 3-Kaleb Montgomery[4]; 3. 10-Dominic Gorden[6]; 4. 121-Rickey Sanders[3]; 5. 88-Ashton Torgerson[16]; 6. 8-Jeremy Chisum[11]; 7. 2K-Gauge Garcia[5]; 8. 72W-Kurt Nelson[10]; 9. 5R-Ryan Rocha[12]; 10. 72JR-Chris Nelson[17]; 11. 56Z-Don Hart[20]; 12. 88A-Joey Ancona[1]; 13. 3M-Adam Kaeding[18]; 14. 7P-Jake Andreotti[8]; 15. 72S-Bradley Dillard[15]; 16. 31H-Phil Heynen[19]; 17. 69-Bud Kaeding[2]; 18. 25Z-Jason Chisum[9]; 19. 98-Vince Giannotta[21]; 20. 61-Travis Labat[13]; 21. 3D-Caleb Debem[14]; 22. 34B-Glenn Bryan[22]
The 25-lap IMCA Modified feature showcased some solid competition on Friday night. Prunedale racer Fred Lind led the opening lap, before Salinas' Austin Burke was able to make the pass on lap two. Burke held the point until Robert Marsh carved his way past to take over the top-spot.
The fellow Salinas driver looked strong up front as his fellow racers duked it out behind him. Cars ran all over the Ocean Speedway clay as race fans certainly got their monies' worth. Multi-time track champion Bobby Hogge, also of Salinas, methodically closed in on Marsh and made his move with six laps remaining.
Once out front though he soon had to deal with a fast-moving Jim Pettit II, who appeared to have a faster car towards the end. Pettit gave Hogge everything he could handle, but caught the wall off turn two during the final circuit. That was all she wrote as Hogge took home the win over Andy Obertello, Lind, Auston Burke and Marsh. Pettit slowed across the line in seventh.
IMCA Modified results: 1. 2-Bobby Hogge[6]; 2. 29-Andy Obertello[8]; 3. 77-Fred Lind[1]; 4. 25-Austin Burke[3]; 5. 22-Robert Marsh[4]; 6. 20-Cody Burke[5]; 7. 6-Jim Pettit II[9]; 8. 72-Mike Szlauko[11]; 9. 28G-Andrew Pearce[7]; 10. ONE2-Anthony Slaney[10]; 11. 01-Raymond Keldsen Jr[2]
The IMCA Sport Mod feature saw Merced's Gavin Epsino lead the initial four laps from the pole. Prunedale's Jonathan Hagio then blasted around him to take over the point and hold command until lap nine when he encountered issues.
Brentwood's Trevor Clymens then led the final half of the contest to scoop up the win over Espino, Darren Thomas, point leader Chuck Golden and Emali VanHoff.
IMCA Sport Mod results: 1. 2C-Trevor Clymens[5]; 2. 33G-Gavin Espino[2]; 3. 14T-Darren Thomas[9]; 4. 3G-Chuck Golden[8]; 5. 4M-Emali VanHoff[1]; 6. 22W-Charlie Hunter[14]; 7. 7SR-Mike Ficklin Jr[11]; 8. 52-Jason Ryan Jr[6]; 9. 46N-Jonathan Hagio[4]; 10. 7JR-Mike Ficklin[10]; 11. 19C-Tommy Clymens[3]; 12. 33-Mike Gil[12]; 13. (DNS) 95-Justin Parr; 14. (DQ) 39-Steven Allee[7]
Ocean Speedway point leader Joe Gallaher dominated the 15-lap finale for the Hobby Stocks over Dan Fassler and Norm Ayers. It marked the fifth win of the season for Gallaher.
Hobby Stock results: 1. 1-Joe Gallaher[5]; 2. 3OG-Dan Fassler[3]; 3. 51-Norm Ayers[2]; 4. 55F-Shane Freeman[1]; 5. (DNS) 83C-Lawerence Castillo
Ocean Speedway returns to action this coming Friday with the start of four championship point races to go for the Ocean Sprints presented by Taco Bravo.
Image courtesy of TOP Dawg Photos
---
Article Credit: Gary Thomas
Submitted By: Gary Thomas
Back to News