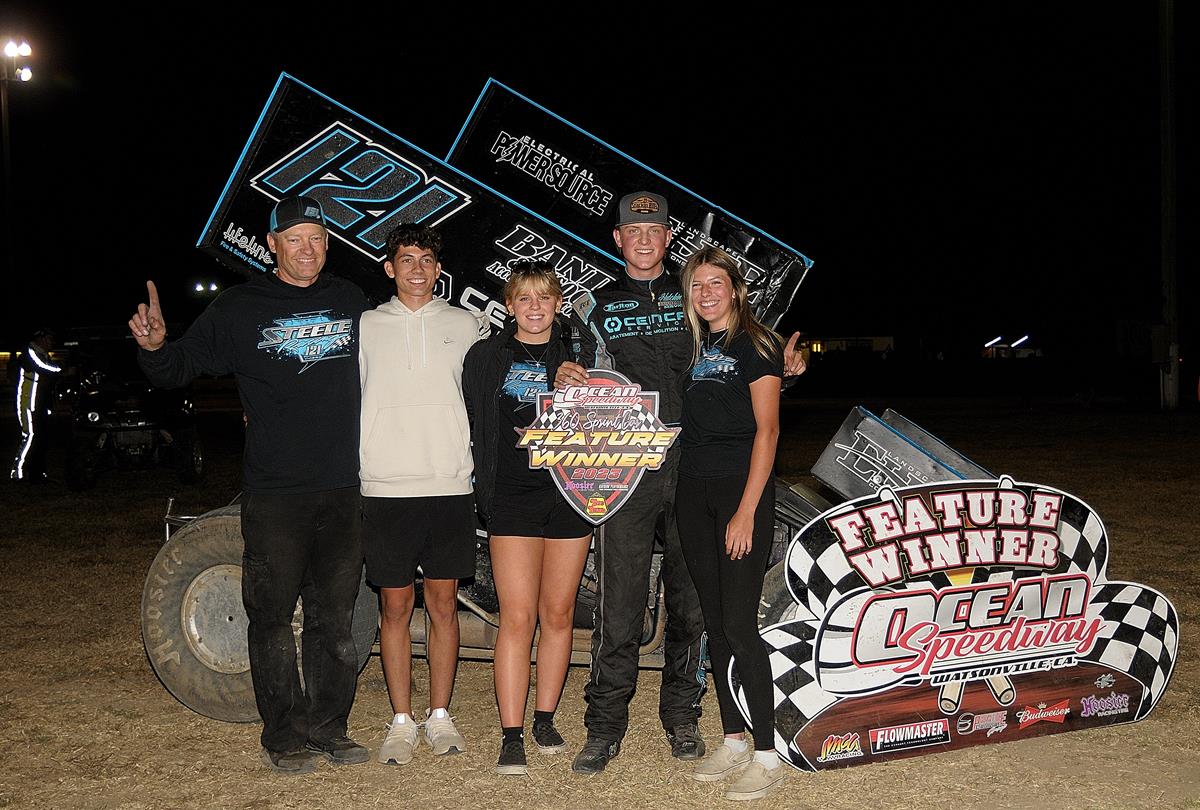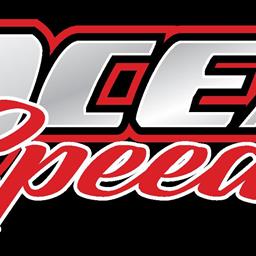 ---
Caeden Steele and Dominic Scelzi put on a show for the fans in Watsonville Friday
Caeden Steele and Dominic Scelzi put on a show for the fans in Watsonville Friday
By Gary Thomas
Watsonville, CA…Fresno's Caeden Steele had been close to victory on several occasions this season and finally sealed the deal on Friday, making a late pass of Dominic Scelzi to claim the Key Classic kick-off race at Ocean Speedway.
Also scooping up wins on Friday night were Adriane Frost with the Hobby Stocks, Jason Lazzerini with the Four Bangers and Danny Wagner with the South Bay Dwarf Cars.
The 30-lap Ocean Sprints presented by Taco Bravo feature saw Gizdich Ranch Dash winner Steele jump into the lead at the waving of the green flag. It was short lived however, as Fresno's Dominic Scelzi scooted by to grab the point after one lap was complete.
Scelzi then held command and worked his way through heavy duty lapped traffic, with Steele not far behind. The duo raced closely together for a majority of the contest and gave the crowd on hand an excellent display of Winged Sprint Car racing.
As the laps wound down traffic continued to play into things and with four circuits remaining, Steele made his move. The 17-year-old youngster dove to the inside of the two-time NARC champ and crossed the stripe as the leader on lap 27. Scelzi gave it one final shot on the last corners, but Steele hit his marks to bring home his second career Ocean Sprints triumph.
Scelzi finished in second, with Campbell's Bud Kaeding rounding out the podium. The 1996 Johnny Key Classic winner, Kaeding, had an excellent run in the main event making frequent impressive passes. Oakley's Dylan Bloomfield and the night's fastest qualifier Colby Johnson completed the top-five. The remainder of the top-10 was filled out by Mitchell Faccinto, Kaleb Montgomery, Rickey Sanders, Ryan Bernal and Bryce Eames.
Ocean Sprints results: 1. 121X-Caeden Steele[1]; 2. 41-Dominic Scelzi[2]; 3. 69-Bud Kaeding[5]; 4. 83V-Dylan Bloomfield[7]; 5. 38-Colby Johnson[3]; 6. 12R-Mitchell Faccinto[6]; 7. 3-Kaleb Montgomery[9]; 8. 121-Rickey Sanders[8]; 9. 22-Ryan Bernal[15]; 10. 50-Bryce Eames[11]; 11. 10-Dominic Gorden[12]; 12. 2K-Gauge Garcia[10]; 13. 72W-Kurt Nelson[14]; 14. 8-Jeremy Chisum[13]; 15. 3D-Caleb Debem[20]; 16. 3M-Adam Kaeding[4]; 17. 72JR-Chris Nelson[19]; 18. 72S-Bradley Dillard[18]; 19. 87-Ashlyn Rodriguez[17]; 20. 56Z-Don Hart[21]; 21. 88A-Joey Ancona[16]; 22. 98-Vince Giannotta[22]
The 20-lap finale for the Hobby Stocks saw Bobby Gallaher get out front early and dominate in impressive fashion. He looked to be on way to victory until a caution flag at the halfway point created a restart.
During the restart Gallaher and Adriane Frost battled it out, which ultimately saw a three-car pileup that included Gallaher. Frost then led the remainder as Shane Freeman tried to get by on several occasions. Frost took the checkered flag for her third win of the year.
Freeman crossed the stripe in second while smoking, which eventually turned to a big flame-up in victory lane. Joe Gallaher, Alex Wilson and B. Gallaher completed the top-five.
Hobby Stock results: 1. 22-Adriane Frost[3]; 2. 55F-Shane Freeman[8]; 3. 1-Joe Gallaher[6]; 4. 36-Alex Wilson[5]; 5. X1-Bobby Gallaher[2]; 6. 69-Jerry Skelton[7]; 7. 9-Nick Scetani[1]; 8. 3OG-Dan Fassler[4]; 9. (DNS) 83-Terry Campion
Moss Landing wheel-man Jason Lazzerini easily won the Four Banger feature to secure his ninth victory of the 2023 season at Ocean Speedway. He was followed across the line by Dillon Summers, Matt Hill, Amaya Flower and TJ Santos.
Four Banger results: 1. 0-Jason Lazzerini[10]; 2. 106-Dillon Summers[5]; 3. 810-Matt Hill[2]; 4. 10-Amaya Flowers[9]; 5. 14-TJ Santos[8]; 6. 25-Bill Beardsley[1]; 7. 43-Kate Beardsley[12]; 8. 50-Tony Smith[11]; 9. 50F-Shelbie Freeman[4]; 10. 2-Nicole Beardsley[7]; 11. 37-Peter Vannerus[6]; 12. 112-Travis VanGilder[14]; 13. 333-Sarah Ayers[15]; 14. 23X-Lisa Rhodes[13]; 15. (DNS) 52-Tony Gullo
Baypoint veteran Danny Wagner raced to another Ocean Speedway triumph with the South Bay Dwarf Cars on Friday night. The main event was scattered with cautions and a couple of red flag periods. All drivers were luckily okay during the incidents.
Wagner was followed by Pete Piantanida, Eric Weisler, Brenden Shrum and Ricardo Rivera.
Dwarf Car results: 1. 11D-Danny Wagner[2]; 2. 96-Pete Piantanida[4]; 3. 64B-Eric Weisler[7]; 4. 31N-Brenden Shrum[9]; 5. 45-Ricardo Rivera[5]; 6. 98-Chris Durden[13]; 7. 45B-Terre Rothweiler[1]; 8. 33-Brandon Wiley[3]; 9. 12-Justin Bingman[6]; 10. 3KE-Corben Kuma[11]; 11. 26N-Dan Zuger[10]; 12. 66B-Mark Biscardi[12]; 13. 69-Eddy Claessen[8]; 14. 88B-Travis Day[14]
Action returns to Ocean Speedway tonight for the 63rd Johnny Key Classic featuring the SCCT 360s vs Ocean Sprints.
Image courtesy of Top Dawg
---
Article Credit: Gary Thomas
Submitted By: Gary Thomas
Back to News