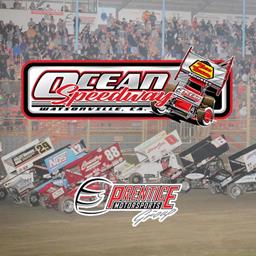 ---
Dominic Scelzi Wins Thrilling Ocean Sprints Feature, Hogge, Jones, Keldsen, and Anderson Also Pick Up Victories
Watsonville, CA – Fresno's Dominic Scelzi won his first Ocean Sprint feature of the season in exciting fashion as the likes of Lemoore's Cole Macedo and Campbell's Bud Kaeding tried their best. Stockton's Brad Furr led down the back straight on the first lap, but Scelzi powered by on the inside. Macedo followed Scelzi by Furr shortly after to take second. A caution on lap four for Fremont rookie William Camara brought everybody back together for a restart. Scelzi pulled away but quickly entered lapped traffic, bringing Cole Macedo back into the picture. Macedo got ever closer before pulling a massive slide job in turns one and two. Scelzi would turn under him and regain the lead down the backstretch. Macedo tried again with another slider in three and four, but Scelzi remained out front. The battle took a pause when Concord's Joey Ancona spun in turns one and two on lap 15. Dominic Scelzi pulled away to a sizable lead and just as he reentered lapped traffic, Coalinga's Tucker Worth spun in turn two while in fifth. Hanford's Zane Blanchard and Brad Furr also got caught up in the incident. Dominic Scelzi again pulled away from Cole Macedo, but the battle for third with Castro Valley's Jake Andreotti and Bud Kaeding was heating up, with Kaeding getting the nod. However, on a lap 25 caution for Jeremy Chisum of Salinas, Kaeding was penalized for jumping the start, moving him back to fifth. While Scelzi and Macedo pulled away, Kaeding was quickly back into third and looking for more. Another caution on lap 27 for Gilroy's Ryon Nelson compressed the field once again. Cole Macedo threw a slider into turn one, but Scelzi was able to once again retake the lead down the backstretch. Macedo would then lose second to Kaeding, followed by contact between the pair in turn two that sent Macedo over the cushion and pointed towards the pits. On the final restart, Bud Kaeding would try his hand at a slider, but Scelzi proved to be too strong, retaking the lead and winning his first Ocean Sprints main event of the year to go along with a King of the West victory in June. Kaeding was second ahead of Jake Andreotti in third, a career best for the micro sprint graduate. For the second race in a row, Corralitos' Jerry Bonnema and Jason Chisum of Salinas stayed committed to the bottom the entire race and were rewarded with top five finishes. Morgan Hill's JJ Ringo won qualifying with an 11.711 and Jake Andreotti, Tucker Worth, and Cole Macedo won the heat races.
It's been three months since Salinas' Bobby Hogge IV won an IMCA Modified feature at Ocean Speedway. That drought came to an end on Friday night as the longtime driver and multi-time track champion led all but one lap en route to victory. The first 12 laps ran caution free before first time visitor and IMCA State points leader Trevor Fitz of Camarillo spun in turn two. Hogge showed the way out front with San Martin's Jeff Decker and Prunedale's Jim Pettit II lurking in second and third. Martinez's Troy Foulger then passed Pettit for third before a caution on lap 14 for Watsonville's James Alaga. On the restart, Jeff Decker seized the lead with an outside move for a single lap before Hogge wrestled it back. A rash of cautions then unfolded, keeping everyone bunched up. Bobby Hogge IV would go on to win while Jeff Decker and Troy Foulger fought over second. Jim Pettit II and Cody Burke of Salinas completed the top five. Pettit and Martinez's Nick DeCarlo won the heat races.
In the Dwarf Cars, San Jose's Shawn Jones won his third A-Main in a row after another great race between him and Santa Cruz's Terre Rothweiler. Rothweiler led the first five laps before a caution for Monterey's Eddy Claessen slowed the field. On the restart, Rothweiler biked and pushed up the track in turns three and four to allow Shawn Jones by for the lead. Terre Rothweiler slid all the way back to fourth, but a couple more quick yellows for simple spins kept the field tightly bunched and allowed Rothweiler to catch back up. Jones continued to show the way out front, but Rothweiler was back up to second. Rothweiler then found himself backwards in turn four on lap 15 as he pushed a little too hard trying to catch Shawn Jones. A scary incident unfolded shortly after the restart when Morro Bay's Joe Barket flipped violently in turn four after contact from another car. Thankfully, Barket was OK. Shawn Jones would go on to win ahead of Mark Biscardi of San Jose and Los Banos' Punky Pires. Rothweiler recovered from his earlier spin to take home fourth and Campbell's Eric Weisler completed the top five. Terre Rothweiler and Shawn Jones won the pair of heats.
DJ Keldsen won his second consecutive main event in the 4-Bangers on Friday night after starting scratch on the field. Watsonville's Tony Gullo led the first two laps before suffering a flat tire, handing the lead to DJ Keldsen. Keldsen pulled away to a comfortable lead quickly while the battle for second with Watsonville's Abigail Kennedy, and Felton's Kate and Nicole Beardsley heated up. The race would go caution free, allowing Keldsen to win by around half a track length, with Nicole Beardsley topping Abigail Kennedy and Kate Beardsley for second. Bill Beardsley finished fifth. DJ Keldsen also won the heat race for the division.
Dan Anderson of the Task Force won his first career Police in Pursuit main event with a last ditch effort to top AJ Waltrip of the Santa Cruz Sheriff's Office. Roy Iler of the San Benito Sheriff's Office showed the way and looked poised to take the victory as he extended his lead. On lap 12, Iler's car suddenly slowed with a flat tire down the backstretch allowing AJ Waltrip by for the lead. Waltrip and Anderson had been around each other for much of the race and with Iler's misfortune, the battle for second quickly turned into a fight for the win. Anderson was held up behind Iler's stricken car for a moment, but as the white flag flew, Anderson closed back in on AJ Waltrip. In the final corner, Waltrip blocked low, while Anderson drove around the outside and powered around Waltrip to grab the win at the line. The margin of victory was just over two tenths of a second. John Hohmann of the Scotts Valley PD charged from last to take the last step on the podium. Dan Anderson was also the heat race victor.
This weekend is Ocean Speedway's first two-day event of the year, the Howard Kaeding Classic. On Friday, the Civil War Sprints face off against the Ocean Sprints. The IMCA SportMods, Hobby Stocks, and Western Midgets will also be on the card for Friday. On Saturday, the King of the West/NARC 410 Sprint Car Series will make their second and final 2019 appearance. The IMCA Modifieds, IMCA SportMods, Hobby Stocks, and Dwarf Cars are scheduled for Saturday.
On Friday, the pits are scheduled to open at 2pm and Grandstands will open at 4:30pm. Pill draw will close at 4:30pm. The driver's meeting is scheduled for 4:45pm. Pit passes are $40 for IMCA and track members and $45 for non-members. On Saturday, everything will take place one hour earlier.
There will be no online ticket sales this week. All seating is general admission and tickets cost $20 for adults, Juniors 12-15 are $14, and Kids 6-11 are $11 on Friday. On Saturday, adult tickets are $25 and Kids 6-15 are $15. Kids 5 and under are free both days.
Photo Credits to David Spencer.
---
Submitted By: Sean Stanish
Back to News