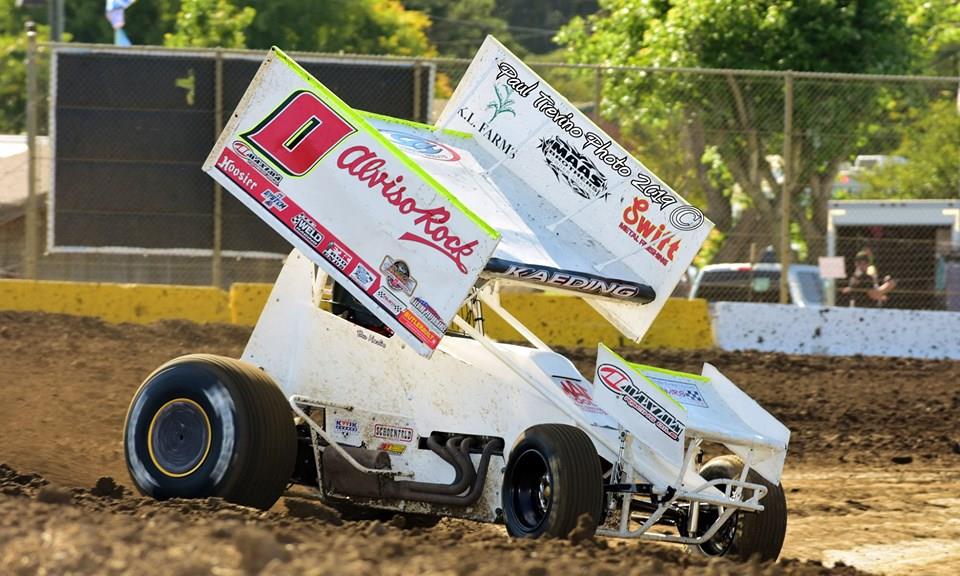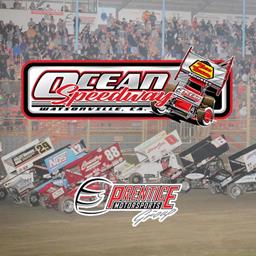 ---
Bud Kaeding, Shane Golobic Among Big Winners at the Howard Kaeding Classic
Watsonville, CA – The two day Howard Kaeding Classic had its ninth edition this past weekend with Campbell's Bud Kaeding and Fremont's Shane Golobic going to victory lane. On Friday, 36 Civil War vs. Ocean Sprints signed on for duty, with Golobic picking up the win. Shane Golobic led early, but the race was marred by two early flips from Roseville's Trent Canales and Riverdale's Grant Duinkerken. Thankfully, both drivers were OK. Golobic and Bud Kaeding would trade the lead a couple times around the lap ten mark, with Golobic regaining the advantage. Then entered Penngrove's Chase Johnson. Johnson would get by Golobic to lead lap 19 and then pull away from Golobic and Kaeding, but then had lapped traffic to contend with. As Johnson rounded turn four to take the white flag, he made contact with a lapped car and spun, gassing it up and winding up on his side. This gave the lead back to Shane Golobic with Bud Kaeding in second. On the restart, Golobic eased away to take the victory with Kaeding in the runner-up spot. Colby Copeland of Roseville passed Fresno's Koen Shaw on the last corner to take third, with Lemoore's Cole Macedo rounding out the top five. Copeland was also Hard Charger, moving up 11 positions in the feature.
On Saturday, the powerful 410 Sprint Cars with the King of the West Series brought out a field of 34 cars to go after the $5,000 pay day. Benicia's Billy Aton started on the outside pole and led early on. Shane Golobic was Aton's biggest threat as the pair entered lapped traffic, with Aton able to hold on to the lead. Bud Kaeding would pass Roseville's Willie Croft for third and join Aton and Golobic in the battle for the lead. Just as Bud Kaeding passed Golobic for second, a caution for Atwater's Sean Watts would eliminate the already scant lead Aton had. On the restart, Kaeding took advantage and slid past Billy Aton for the lead in turns three and four. Aton would start to lose positions as Shane Golobic and Willie Croft both moved by. Meanwhile, Bud Kaeding was gone at the front but a caution would bring Shane Golobic back to his rear nerf bar. Golobic would attempt a slider on the restart to no avail. Kaeding would start to pull away slightly, with Shane Golobic still in tow. Golobic would close in on Kaeding as the white flag flew, but he bobbled in turn two, allowing Bud Kaeding to score the victory. Shane Golobic held on to second ahead of Willie Croft in third. Aromas' Justin Sanders battled with Croft throughout the main event but had to settle for fourth this time. Colby Copeland completed the top five. Cole Macedo was awarded Hard Charger for moving by 13 cars in the A-Main.
The IMCA SportMods competed both days and had two new 2019 winners. Antioch's Todd Gomez won his first career Ocean Speedway main event on Friday followed by Dennis Simunovich of Hollister on Saturday. This was Simunovich's first win since the 2016 season. On Friday, Grass Valley's Andrew Peckham led early before giving way to Todd Gomez. Bakersfield's Kevin Johnson tried his best to get by Gomez but Gomez was able to withstand the pressure and survive countless restarts to collect his first career win at the track. Johnson was second ahead of Antioch's Guy Ahlwardt, Andrew Peckham, and Atwater's Jarrod Mounce. On Saturday, the main event went green to checker, completed in under five and a half minutes. Watsonville's Billy Robertson led the first two laps before relinquishing the lead to Dennis Simunovich. Simunovich quickly pulled away to a huge advantage over the field. Kevin Johnson battled his way through the pack to once again find himself in second. With no yellows, Johnson settled for second for the second day in a row, five seconds behind Simunovich. Jarrod Mounce, Billy Robertson, and Santa Cruz's Steven Allee completed the top five.
The Hobby Stocks also competed both days and had two new winners this season. San Jose's Matt Kile won the Friday show, leading every lap from the pole. Kile was behind the wheel of the car normally piloted by John Farrell or Mike Calhoun for just the second time this year. The race went green to checker and was completed in just over four and a half minutes. DJ Keldsen came from seventh to finish second ahead of Gilroy's Nick Triolo, with the father-son duo of Bobby Huckaby Sr. and Jr. of Santa Cruz rounding out the top five. Saturday's race was a bit rougher, with Nick Triolo and DJ Keldsen getting involved in an intense fight for the lead. Triolo spun off the front bumper of Keldsen, sending both to the rear of field. This gave Jerry Skelton of Watsonville the lead and the eventual win. Bobby Huckaby Sr. was scored second, with Triolo, Bobby Huckaby Jr., and Matt Kile the top five.
Friday's show featured the return of the Western Midgets after nearly a month off. Honolulu, HI native Keoni Texeira started on pole and led every lap to take his first career victory at the track. Watsonville's Tyler Slay and Atascardero's Randi Pankratz had a good battle for second, with Slay getting the runner-up position. Greg Edenholm of Pacific Grove was the last car running on track in fourth. Eight cars started the feature, but half the field dropped out for various, relatively minor, reasons. Most notably, Fresno's David Prickett had his reign of terror come to an end after losing a battery on lap two of the feature.
On Saturday, the IMCA Modifieds joined the program where Bobby Hogge IV of Salinas won his second race in a row. Raymond Keldsen Jr. of Aromas had one of his best runs in recent memory and led early. A big pile up on the backstretch caught up Watsonville's Todd Hermosillo, Martinez's Troy Foulger, and Gilroy's Jerry Movrich, among others. Keldsen continued to lead, holding off the challenges of Bobby Hogge IV until lap 16, where Hogge would get by and pull away. Keldsen would lose a couple positions after a yellow flag on lap 19. On the restart, Hogge pulled away to a three second advantage to take the win with Livermore's Brian Cass and Prunedale's Jim Pettit II in second and third. Martinez's Nick DeCarlo and Raymond Keldsen Jr. completed the top five.
The Dwarf Cars also joined the show on Saturday. Hollister's Ryan Ameln won his first Main Event in over 12 years. Records indicate his last win at Ocean Speedway came on May 25th, 2007. Ameln's long winless streak came to an end on Saturday as he dominated the feature. Ameln led from the drop of the green flag and went generally unchallenged throughout the race. A scary incident unfolded on lap 10 when Kyle Jones and Mark Biscardi both flipped in turns three and four. Both drivers were OK. Ameln would survive a couple more restarts to take the long awaited victory. Joe Barket of Morro Bay, who flipped at the last event, came home second after a great battle with Punky Pires of Los Banos who finished third. Gustine's Jimmy Damron and Fairfield's Bobby Johnson completed the top five. The Dwarf Cars have just one more race scheduled at the track in 2019 on August 23rd.
The track returns to weekly action this Friday with the Ocean Sprints, IMCA SportMods, Hobby Stocks, 4-Bangers, and the sixth Police in Pursuit for Special Olympics race of the season.
Advance tickets to the races scheduled for Friday, July 26th are available here: https://market.myracepass.com/store/tickets/?i=1176090&store=12231
Pits are scheduled to open at 2pm and Grandstands will open at 4:30pm. Pill draw will close at 4:30pm. The driver's meeting is scheduled for 4:45pm. Pit passes are $40 for IMCA and track members and $45 for non-members. All seating is general admission and tickets cost $18 for adults and $16 for seniors. Juniors 12-15 are $12 and Kids 6-11 are $9 and Kids 5 and under are free.
Photo credits to Paul Trevino.
---
Submitted By: Sean Stanish
Article Media
Back to News